Apple is planning to delay the launch of iPadOS 16 until October, which means the iPad software will not launch alongside iOS 16 in September as it typically does, reports Bloomberg.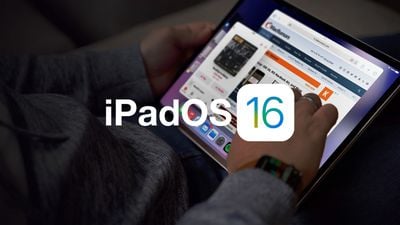 Apple has been developing a new multitasking feature for the ‌iPad‌ called Stage Manager, with the option designed to offer a more Mac-like multi-window multitasking experience. The delayed launch of ‌iPadOS 16‌ is said to be partially due to the implementation of Stage Manager as Apple is still working out bugs. A delayed launch will allow Apple to devote more time to finishing ‌iOS 16‌, and then the company will be able to shift to working on ‌iPadOS 16‌.
Stage Manager is limited to the M1 iPad Pro and iPad Air models, and it is not available on older iPads, which has caused some controversy. Apple maintains that it is not possible to offer an acceptable multitasking experience on older iPads, hence the limitation.
Since Apple split iPadOS into its own operating system in 2019, iPadOS releases have largely been tied to iOS releases, with software updates for the iPhone and the ‌iPad‌ launching at the same time. The delayed launch of ‌iPadOS 16‌ will mark a departure from Apple's standard release plans.
Introducing ‌iPadOS 16‌ in October means the software will be timed to launch closer to new iPads. Apple is developing a new M2 version of the ‌iPad Pro‌ with an ‌M2‌ chip, and an entry-level ‌iPad‌ that features a USB-C port, both of which are expected to debut later this year.
Related Stories
Stage Manager in iPadOS 16 Now Optimized for Instagram and Other iPhone Apps
Stage Manager on iPadOS 16 is now optimized for iPhone apps on the iPad, letting users use apps made for the smaller iPhone screen as individual windows on M1-powered iPads while using Stage Manager. With the release of iPadOS 16 beta 3, Apple is now allowing iPhone apps to run as individual windows in Stage Manager. This means popular iPhone apps that have no iPad app, such as Instagram,…
iPadOS 16's Best Feature is Limited to M1 iPads
Apple yesterday unveiled iPadOS 16, the newest version of the iOS operating system designed for the tablet form factor. iPadOS 16 has many of the features that are coming to iOS 16, but it also has some iPad specific updates. One of those new features is an updated multitasking system called Stage Manager, but many iPad users are never going to get to test out Stage Manager because it only…
Video: Testing Stage Manager on iPadOS 16 With an External Display
With iPadOS 16, Apple introduced Stage Manager, a feature designed to improve multitasking through a more Mac-like multi-window experience. Apple also added full external display support, so for our latest YouTube video, we thought we'd test out both of these features to show MacRumors readers what the iPad experience is like in iPadOS 16. Subscribe to the MacRumors YouTube channel for …
iPadOS 16 Lets Apps Use Storage as Virtual RAM on M1 iPads
Apple is adding virtual memory swap to iPadOS 16, allowing apps on the recent iPad Pro and iPad Air models to use free and available storage as extra memory for demanding workloads. With iPadOS 15, certain apps can use up to 12GB of memory on the highest-end M1 iPad Pro which has 16GB of total RAM. With iPadOS 16 and virtual memory swap, Apple is significantly increasing the amount of memory …
iPadOS 16 Tidbits: Drastically Improved Files App, System-Wide Undo/Redo, and More
iPadOS 16 is now available to developer beta testers with improvements in Messages and Safari and the all-new Stage Manager, enabling multiple app windows and Mac-like multitasking on M1 iPads. As has always been the case, many features are shared across iOS and iPadOS, and that's certainly true this year. iPadOS 16 gains several major new features from iOS 16, including the ability to edit…
Apple Tested Stage Manager on iPads Without M1 Chip and Wasn't Satisfied
As more post-WWDC interviews with Apple's software engineering chief Craig Federighi surface, we continue to learn more about Apple's reasoning behind iPadOS's new Stage Manager feature being limited to iPads with the M1 chip. The latest interview was published by Forbes contributor David Phelan, who asked Federighi if Apple attempted to make Stage Manager work with iPad models without the…
Video: Check Out the 5 Best iPadOS 16 Features
iPadOS 16, Apple's operating system that runs on the iPad, is getting almost all of the great features coming to iOS 16, but there are also iPad-specific additions that make the iPad more Mac-like than ever. In our latest YouTube video, we show off the five best features coming to the iPad this fall. Subscribe to the MacRumors YouTube channel for more videos. Stage Manager – Stage Manager …
Apple Explains Why Stage Manager is Limited to M1 iPads in New Statement
One of iPadOS 16's key new features is Stage Manager, which allows users to resize apps into overlapping windows for an improved multitasking experience. Stage Manager also fully supports an external display, allowing users to work with up to four apps on the iPad and up to four apps on the external display simultaneously. To the disappointment of some users, Stage Manager is limited to iPad …
Popular Stories
Top Stories: iOS 16 Beta 4, 'Apple Watch Pro' Rumors, and More
We're probably about six weeks away from the unveiling of the iPhone 14 lineup and Apple is continuing to polish the iOS 16 update that will be released alongside the new hardware, so we're seeing a number of tweaks as it moves through the beta testing period. This week also saw some rumors about the rugged "Apple Watch Pro" planned for launch later this year, as well as some of the…
iPhone 14 Still To Boast Performance Improvement Despite Sticking With A15 Chip
The standard iPhone 14 models will still have better performance than the iPhone 13, despite containing the same A15 Bionic chip, according to leaker "ShrimpApplePro." In March, Apple analyst Ming-Chi Kuo claimed that only the iPhone 14 Pro models will feature the A16 chip, with the standard iPhone 14 and iPhone 14 Max models to be equipped with the A15 chip like the iPhone 13. In an April.. .
Intel to Introduce Wi-Fi 7 in 2024 as Apple Plans Imminent Move to Wi-Fi 6E
Intel is planning to install its next-generation Wi-Fi 7 (802.11be) technology in devices by 2024, ETNews reports. Wi-Fi 7 is the successor to Wi-Fi 6E (802.11ax), bringing two times faster data processing speeds of 5.8 Gbps and more stable 6 GHz bandwidth stability, as well as support for up to 36 Gbps when working with data. Intel plans to expand its Wi-Fi 7 development efforts ahead of…
Apple's Online Store is Currently Down in Some Countries [Updated]
Apple's online store is currently down in some countries, including the United States, Canada, Australia, France, Germany, Italy, Spain, the United Kingdom, and more. The downtime is not worldwide, with the store still operational in some other countries. "We're making updates to the Apple Store," the store page says, as usual when there is downtime. Apple advises customers to "check back…
Apple Adds Eight More Macs to Vintage Products List
As expected, Apple today updated its vintage products list with eight more MacBook, MacBook Air, MacBook Pro, and iMac models released in 2015 and 2016. Notably, the first MacBook Pro models with the Touch Bar are now classified as vintage. Apple introduced the Touch Bar in October 2016 as part of a complete redesign of the MacBook Pro. Apple has since removed the Touch Bar from higher-end…
VMware Fusion Tech Preview Brings Windows 11 to Apple Silicon Macs
VMware announced this week that its latest VMware Fusion update brings Windows 11 support to both Intel and Apple silicon Macs. Available as a free tech preview, the 2H22 version of Fusion will finally allow Apple silicon Mac users to download and use Windows on their machines through virtualization. Features include Windows 11 support with 2D GFX and networking, VMtools installation for…
Apple Expands Apple TV Gift Card Offer to More Countries
Apple has expanded a previously US exclusive Apple TV gift card offer to more countries worldwide, offering customers a gift card alongside the purchase of an Apple TV 4K or Apple TV HD. The original offer was launched for US customers last month, giving buyers a $50 gift card with the purchase of an Apple TV. Following the Apple Store going down in several countries, Apple has…
.